Setting up the SOJ Count Reporter
The SOJ Count Reporter (commonly just called 'reporter') is a program for Diablo II. It will watch for any SOJ sales / walks in your game and report them to the reporter server so that accurate count / walk info is available at all times. The count info is available from several aggregator sites such as counts.dcloneirc.net or dclonehunters.net as well as live displays of events on Diablo Clone IRC networks such as GamersVault and DCloneIRC. Reporter also has the ability to show you the game server IP directly in your Diablo II window when running in windowed mode.
This version of reporter is now 1.13 compatible. No part of Diablo II code is changed, nor is nothing injected into Diablo II address space, meaning this should not be detectable by Blizzard.
Download / Usage
Get reporter-b14.zip and extract the .exe somewhere on your hard drive. Do NOT run the .exe from inside your .zip program! You must extract it before running it. When running the program for the first time, it will rename itself to help avoid detection. Run it again and it will automatically detect and monitor any Diablo II windows. You do not need to put anything into the 'user code' box unless you have been told to do so. If you wish to have reporter start automatically with Windows, you can place a shortcut in your Startup folder on the Start Menu with -hide on the command line to have it automatically start and hide.
If you have a software firewall or other security software which restricts outgoing traffic, you will need to allow outgoing UDP packets on port 4000 for reporter to be able to send its data.
Windows Vista users: make sure you run Reporter with administator privileges so it can open the Diablo II process. Goto the shortcut properties and tick 'Always run this program as administrator'.
Screenshots
Reporter program: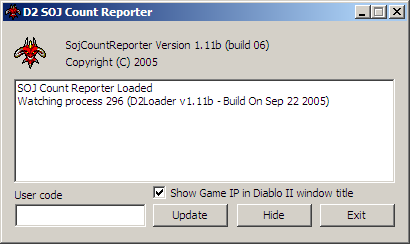 Update: Immediately scan for new Diablo II windows. Not normally needed since reporter scans every 30 seconds by itself.
Hide: Hide the reporter window. Run the .exe again to make it visible.

In-game IP display feature: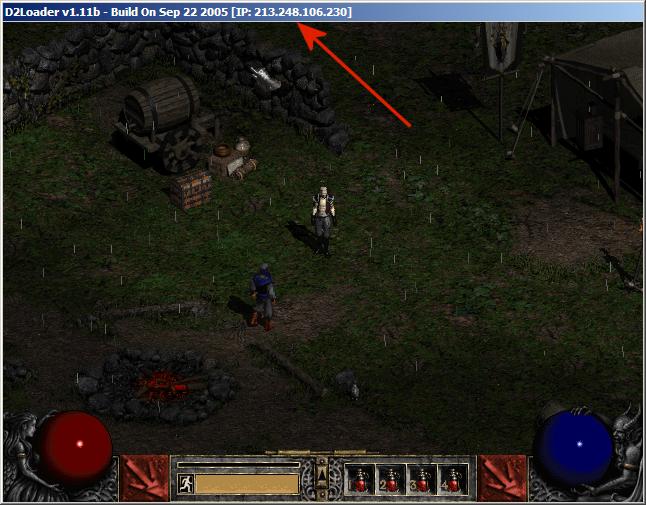 Thanks for using reporter to help keep accurate counts!